Jérôme Akayezu died unexpectedly
Died on June 19th 2021, Jérôme Akayezu died unexpectedly due to illness he had for a short time.
Jérôme Akayezu was one of those who would have been join CCMES Organization if Covid didn't occur, that is why he is considered as a member although he didn't meet other members.
He was one of the children taken from Gahini Orphanage and taken to families at Nasho, where the Nyarubuye Commune is located, which is now Kirehe District.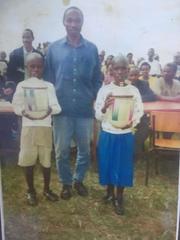 The orphans were found in the corpses during the 1994 Genocide against the Tutsi. Most of them were picked up by RPF soldiers.
In 1999, The 12 Nasho families came together,led by Ladislas BAVUGIRIJE, the chief of the village of Mpanga Sector, they came to pick up the children, carrying 18 of them.
In 2000 when the ceremony was officially held. Representatives of Commune Rukara went to Nyarubuye to sign the migration of the children, in front of the representatives of Commune Nyarubuye.
Akayezu Jerome was one of those orphans.
He was taken by the foster parents called Nzabakurikiza Cyprien and his wife Nyirabavakure Angelique along with a girl (Uwamahoro Claudine) who became her sister.
Life in the new home was difficult, and it did not go well for them. Jérôme left in 2003, and the following year, in 2004, Claudine also left.
The two children met again in 2011 when Claudine, who had already had a stable life, searched for her brother and they began living together as siblings.
After Jérôme left Cyprien's home, life was not easy for him. He changed shelter to shelter until he met a benevolent, Mr. BAZIRUWUNGUKA Jean Paul, who sheltered him. Jérôme continued to do various jobs living at BAZIRUWUNGUKA's home. When he got money he went to live alone, but he continued to take his food from BAZIRUWUNGUKA.
Later the benefactor found Jérôme to be a faithful child, appointing him to manage his stockpiles.
As Jérôme used to work, he saved, he had some of things: land, rice fields, cows, and other livestock, and even savings in the bank.
He fell ill and died five days later. The disease was not recognized. He died at KIREHE District Hospital.
CCMES tried to support its beneficiary Claudine Uwamahoro, giving her a someone to accompany Odile MUGABE, and food to eat on the way, as the journey to Kirehe was a long one.
This is the history of the short life of Jérôme Akayezu.
This story is very sad especially for our CCMES Organization which consists of parents who do not know the whereabouts of their children and children who do not know their origins.
It is sad, to think that the child may have a mother in a place where she thinks her child is dead, or that she is afraid of those who ridicule her and cause her to never try to find him.
In addition to the bad life the child has gone through before, and the chances of being reunited with a parent or a family, it is reduced when a person dies, it is a grief for anyone who thinks far from this issue of losing your siblings.
He will never feel the joy of meeting his family, and even his family will never have it anywhere else.
We don't have children who were born without parents, they have their parents, they have families from which they were born, there are places where their family lived. They are real people. So if everyone is silent and thinks that his/her relatives are dead, how will the survivors know their families?
Parents, be brave, Rwandans, be brave and stand up and find your loved ones, relatives, and friends whom you lost.
Knowing your birthplace, as well as knowing the whereabouts of your loved ones, is everyone's responsibility and right.